The latest energy
saving technology
Best Seller

The UK's slimmest radiator offering ultra energy efficiency and maximum savings.

New WiFi Range

Connect to WiFi and control wirelessly through App or Home Assistant.

Great value energy efficient radiator that's easy to use and quick to install in any room.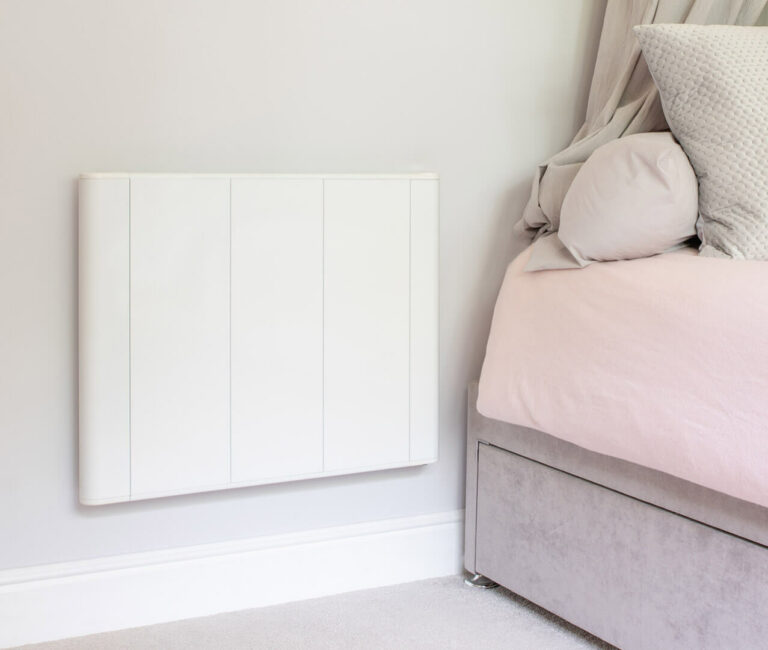 Slim, small electric radiators that fit in even the most cramped spaces
A convenient and stylish addition, small electric radiators fit into even the smallest rooms, providing energy-saving, efficient heating.  With simple and stress-free installation, their unobtrusive design leaves your room feeling more spacious than ever.
Gone are the days where heaters take up unnecessary room. Free-standing or wall-mounted small electric heaters can be placed exactly where you want them. With their unrivalled controllability and modern design, customers are increasingly choosing electric radiators as their go-to heating solution.
Suitable for any room,
office or conservatory
Free standing
or wall mounted
Lightweight aluminium
body on all models
Install in minutes with our
easy step by step guides
The slimmest electric
radiators in the UK
Are you struggling to find a radiator that fits? Are you finding most radiators are ill-suited for narrower walls and smaller spaces?
Do you have a smaller room – such as a home office, utility room, walk-in wardrobe or garden office – that requires a more unobtrusive heater? Are you struggling to maximise the space in an already cluttered room?
If you're finding that traditional heating solutions are oversized and ill-suited for your smaller rooms, then you're not alone.  It can be extremely difficult to maximise the space available in small rooms, leading them to feel cluttered and become less used. Having a large, cumbersome radiator, fixed to an awkward position only makes things worse.
Short walls, narrow corridors, or small spaces can seem to be at odds with most large, boiler-fed heating solutions. Traditional solutions such as space heaters or storage heaters can become intrusive elements that eat into the available space, all while providing inefficient, expensive heat.
For a long time, smaller rooms have been difficult to heat, and their space has been poorly optimised. But with the arrival of small electric radiators, all of that has changed.
Smaller rooms need a modern, less intrusive heating solution
When arranging or decluttering a smaller room, it's essential that you find a heating solution that compliments your aesthetic ambitions, while providing you with the comfortable heating you require. You may find that many traditional radiators fail to achieve these goals, and you want a heater that can allow you to maximise the less-used spaces in your house, giving you a new room to enjoy. Smaller electric radiators do just that.
Small electric radiators – Perfect heating, perfect fit
If you've been searching for a smaller, stylish and more flexible heating option that can fit almost anywhere you choose, then a modern electric radiator is exactly what you've been looking for.
Small electric radiators are perfect for installing into smaller, more awkward rooms – such as home offices, utility rooms, walk-in wardrobes, or garden offices – where it can be hard to fit traditional radiators. Not only does this require connecting the plumbing, but also involves larger, more awkward heaters that aren't designed with these smaller rooms in mind. This can lead to you being forced to make design choices you don't want to make, or left with a room that is cramped and unused. Smaller electric radiators solve this problem by fitting in almost anywhere, with their stylish design enhancing the room's aesthetic, rather than detracting from it.
Small electric radiators are plug-and-play. That means they connect to the mains anywhere there is a socket, or can be wired in to the main directly. There is no need to extend existing plumbing or pay expensive fees. Electric radiators simply connect and start providing you with the heat you need, instantly. They are also free-standing or wall-mounted, so the installation couldn't be easier.
On top of this, small electric radiators offer incredible heat. While it may be tempting to think that a smaller radiator might lack heat output, you'd be mistaken. Electric radiators offer excellent, energy-efficient, affordable heating, that operates on a thermostatic Intelligent Control System. This system monitors the temperature of your room and only "tops up" the heat whenever it falls below the temperature you set. Perfect for those winter months when you're locked away in your office trying to remain cosy while you work.
Best Electric Radiators: The #1 Provider of Small Electric Radiators
If, like so many customers around the UK, you think that a small electric radiator is the perfect heating solution for you, then Best Electric Radiators should be your number one choice. Take a look at our reasons why:
1) Our "UK's Smallest" Electric Radiator
There's only one company that offers the UK's slimmest radiator, and that's us.
The extremely small Slimline Curve measures in at just 45cm in width and 50cm in height, with a depth of just 5cm. It has a sleek, stylish design, and Intelligent heat output that makes it one of our most popular and most energy efficient radiators ever. Perfect for any room of any size.
2) Our Unrivalled Customer Service
Every company says they put their customers first, but very few can actually prove it. At Best Electric Radiators, we go the extra mile to make sure our customers receive the best service possible – both during, and after their purchasing experience.
That's why we're rated 5/5 on TrustPilot, and regularly get 5* reviews from our customers.
We have a team of dedicated professionals to help you with any questions you have about your radiator, and our design team spends countless hours perfecting your radiator so that once you've turned it on, you'll do nothing except enjoy your heat.
3) Our Helpful Pre-Purchase Tools
We want you to find the best electric radiator for your room. That's why before you make any purchase, we give you plenty of tools to help you make sure it's a perfect fit and matches the design you have in mind.
High-resolution images and a 360-degree video help you to see exactly what your radiator looks like, so your purchase is fully informed.
4) Our FREE 48-Hour Delivery

Alongside our competitive warranties and lifetime support, we want to go the extra mile for you. That's why we offer FREE 48-hour delivery on all your radiator purchases.
We know how annoying it is to have to spend extra money getting your product shipped to your house. Instead, we want you to rest assured that the price of your radiator is the only price you'll pay.