Electric Cloakroom Radiators
The latest energy
saving technology
Best Seller

The UK's slimmest radiator offering ultra energy efficiency and maximum savings.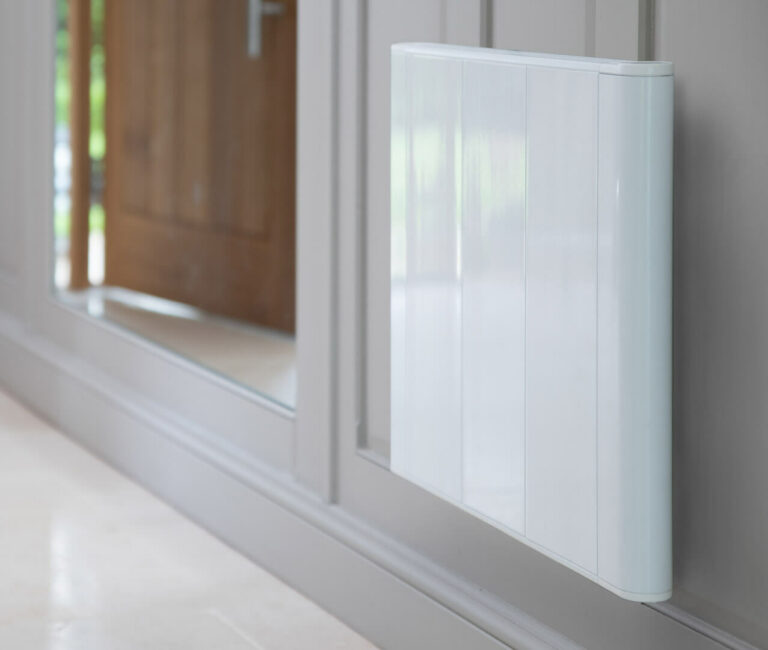 Our electric cloakroom radiators take less space than a conventional radiator
Our slimline electric radiators are programmable, stylish and slim, custom-built to fit into the narrowest cloakroom or cupboard spaces. Choose yours today and enjoy consistent, controllable, cost-effective heating.
Suitable for any room,
office or conservatory
Free standing
or wall mounted
Lightweight aluminium
body on all models
Install in minutes with our
easy step by step guides
The slimmest electric
radiators in the UK
Every room deserves consistent, controlled heating
When heating your home, you likely think of radiators in the bedroom, living room or kitchen – but why stop there? While cloakrooms are usually compact, they serve a number of purposes – from drying clothes to housing heated towel rails for the bathroom – and deserve to be properly heated as a result.
So, whether it's a small cloakroom radiator or heated towel rail you're looking for, we've got the heater for you. Each model is slim and compact, purpose-built for limited space, and powerful enough to heat even large cloakrooms.
Several of our models are also controllable via your smart phone or favourite home assistant, be it Amazon Alexa or Google Assistant, so you can set a daily heating schedule to meet your exact needs at the swipe of your finger.
The best electric radiators for your cloakroom
Compared to older radiators, many of our best cloakroom electric radiators are fully programmable, allowing you to set the exact temperature you want for when you want it.
They're easy to configure and can even be controlled via WiFi using Amazon Alexa or Google Assistant to create a personalised heating schedule that fits your daily needs. Not only does this allow you to heat your cloakroom to your particular liking, but it also eliminates wasted heating and the unwanted energy bills that come with it.
Our radiators are designed with cloakrooms in mind. The slim design of 51mm allows them to fit into even the most cramped of spaces, but that doesn't mean they sacrifice any power: even our smallest 600w unit is capable of heating a six-meter squared space up to 21 degrees celsius in no time. So no matter how small or spacious your cloakroom or cupboard may be, our electric radiators are the perfect choice for your heating needs.
Key features:
24/7 Programmable
Even Heat Coverage
Individually Controlled via WiFi, Amazon Alexa or Google Assistant
Precision Control
Maximum Energy Efficiency
Wall Mounted
Slim, Compact Design for Small Spaces
European LOT20 Compliant
The best electric towel rails for your cloakroom
If you're unsure of an electric radiator for your cloakroom or have a more specific need, such as drying or warming towels for the bathroom, try one of our electric towel rails.
They're better suited for drying purposes and are purposely built to hang several towels or items of clothing on, which electric radiators are not. Coupled with the pleasure of warm towels when you want them and a compact design that can fit into even the smallest spaces, electric towel radiators are a practical alternative to traditional radiators with plenty of benefits.
Just like our electric radiators, our cloakroom towel radiators can be individually programmed to suit your heating needs so you can enjoy the right level of heat while keeping energy costs down.
The benefits of electric radiators in your cloakroom
Traditional radiators are bulky, expensive to set up and run, and too powerful for smaller spaces, such as cupboards and cloakrooms. By opting for an electric radiator or towel rail, you can enjoy a range of benefits:
Convenience:
Our electric radiators are completely hassle-free, from installation to management. Programme your unit to your specific schedule and never waste heat or receive unexpected heating bills ever again. Want to change the temperature? You can do so simply from the control integrated control panel or with a swipe of your finger from a smart phone app or via Amazon Alexa or Google Assistant.
Energy efficiency:
Enjoy low power consumption from our electric cloakroom radiators, which mean lower bills each month. Every unit uses heat management technology to detect changes in temperature and adjust the output accordingly. They are energy efficient and only 'top up' when needed.
Aesthetic, space-efficient designs:
Each unit comes in a modern, compact design, allowing it to fit easily into any sized cloakroom and save you valuable space.
Frequently Asked Questions
How do I choose the best electric radiator for my cloakroom?
Make sure to select the correct wattage size for your living space. We recommend 100w per m2 and would advise you to carefully consider the physical size of the radiator to ensure it will fit on your available wall space.  
We also recommend a nice slim electric radiator to help maximise your space – and don't worry, a slim electric radiator or towel rail doesn't mean you have to make sacrifices on efficiency. 
How effective are cloakroom electric radiators?
Our electric radiators are available in 600 to 2000 watts, allowing them to easily heat a 6 meter square area to 21-degree celsius within a matter of minutes. Knowing this, you can quickly assess how many units you need per meter squared in your chosen space. 
What size radiator do I need for my cloakroom?
To find the perfect size radiator, you must simply ensure you have enough wattage/heat output for the size of your room, which you can quickly figure out using our wattage room calculator. Failing that, simply go by 100w per m2 for a rough guide. 
What is the smallest size? 
If you're worried about a radiator taking up too much space in your cloakroom, don't be. The smallest sized radiator is 458mm x 500mm x 51mm, with an output of 600w. Additional radiators, available up to 2000w, are slightly bigger depending on the output. All are designed to maximise output through minimal design, so you don't have to sacrifice the limited space you have.