Conservatory Electric Radiators
The latest energy
saving technology
Best Seller

The UK's slimmest radiator offering ultra energy efficiency and maximum savings.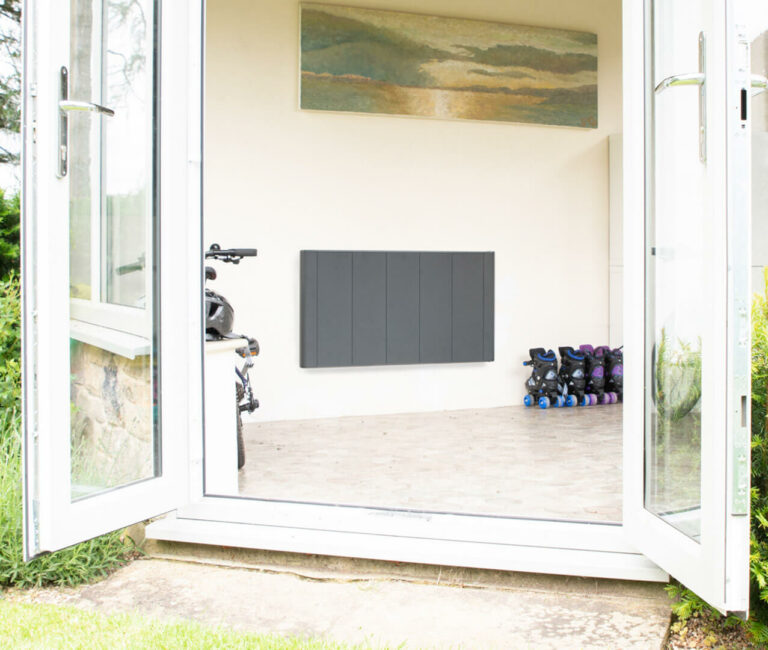 Fully programmable electric radiators that are easily installed into any conservatory
24/7 programmable for efficient heat and easily installed with basic DIY skills, electric radiators provide the perfect heating solution for your conservatory. Using their Intelligent Control System, they can adapt to the demands of any conservatory to supply cost-effective heating that lasts.
Electric heating solutions for conservatories cut the expensive plumbing costs that come with installing a traditional radiator, making them a popular choice for customers looking for cost-effective conservatory heating.
Suitable for any room,
office or conservatory
Free standing
or wall mounted
Lightweight aluminium
body on all models
Install in minutes with our
easy step by step guides
The slimmest electric
radiators in the UK
Do you want to avoid extending your existing plumbing to heat your conservatory? Do you want no-stress, effective heating for your conservatory, whenever you need it?
Do you want to cut costs and gain full control of your conservatory heating with easy, zero-fuss installation?
Most traditional radiators are not designed to meet the heating requirements of modern conservatories. Traditional radiators are tied to your house's boiler, meaning that to heat your conservatory you must pay to extend your entire plumbing system, which can prove very expensive.
Traditional heaters lack the control required to effectively heat a conservatory. Because of their majority glass design, conservatories are extremely prone to losing heat. This is why conservatories require a radiator with more control. Likewise, as the seasons pass from cold winters into warm summers, having a radiator providing needless heat can be a huge waste of money.
Conservatories are often an addition to an existing home and providing them with the same heating system as the rest of the house is inefficient. But with the rise of conservatory electric radiators, you can now have a perfect, fully programmable and energy efficient solution that will keep your conservatory at just the right temperature all year round.
Conservatory Electric radiators – the perfect heating solution
Outside of their sleek, modern design and efficient heat output – there are many benefits to choosing an electric radiator for your conservatory.
Due to the unique design of conservatories -with their majority glass and dwarf walls-, finding a heating solution that can be placed anywhere in the room is a challenge. However, with their small, low-level design and simple DIY installation, electric radiators are the perfect fit in any conservatory; taking up minimal space while supplying optimal heating.
A conservatory requires minimal to no heat during hotter summer months. Electric radiators combat this issue by providing fully programmable heating that is individually controlled, separate from the rest of your home. They are also precision thermostatic to the temperature required. This means that as well as keeping your conservatory at a comfortable temperature, you can set the thermostat so that it never gets too cold.
Nobody wants tricky installation headaches or expensive plumbing bills. Luckily, electric radiators are incredibly easy to install. They plug directly into your mains electricity supply and can be secured to the wall with a simple Do-It-Yourself installation. There is no need to extend your existing heating system. Electric radiators can also be free-standing or wall-mounted, depending on your preference. They can also, if needed, be unplugged, and used in any other room.
Electric heaters boast unrivalled energy efficiency, which is essential in conservatories which are at risk of rapidly losing heat or going unused for much of the year. Using smart technology, they detect when the desired temperature has been reached, and then only use energy to 'top-up' the heat when needed. In months where the conservatory isn't in use and no heat is needed, they can be switched off, independent of any other heating in the house. Not only is this far more cost-effective, but it is much better for the environment.
Best Electric Radiators are the #1 choice for buying electric conservatory radiators
If you are looking to buy a state of the art electric radiator for your conservatory, then Best Electric Radiators are your #1 choice.
1)   Our 5* Reviews
We are the top-rated company for electric radiators on Trustpilot. With our 5/5 star rating, we've proven that we put our customers first and provide them with the highest quality electric radiators and best possible service.
If you have any problems whatsoever with your purchase our team of trained professionals will be happy to help!
2)   We provide 2 ultra-thin electric radiator options 
Our Slimline Curve radiator is the UK's slimmest radiator. Stylish, efficient, and intelligently designed – the Slimline Curve is a perfect option for providing precise, cost-effective heating for your conservatory.
Our Slimline Digital is one of the UK's most popular heaters, with over 25,000 units sold. It provides top of the line heating all while remaining at an affordable price. Perfect for anyone on a budget who is looking for an effective, stylish heater.
3)   We help you find the perfect radiator size for your conservatory
Our radiator calculator helps you easily discover the exact size radiator for your conservatory, and our extensive images, 360-degree view and video all allow you to capture how your radiator will look in your conservatory before you make any purchase.
4)   Free 48 hour delivery 
All our products come with free 48-hour delivery, meaning that your product will be with you as soon as you need it, without costing you a single extra penny.
5)   Our 10-year warranty 
We believe in the quality of our products, that's why every single one of our conservatory electric radiators comes with a 10-year warranty on the body and a 2-year warranty on the electrics. We're confident you won't have any problems, which is why we can offer such a long warranty.