Electric Living Room Radiators
The latest energy
saving technology
Best Seller

The UK's slimmest radiator offering ultra energy efficiency and maximum savings.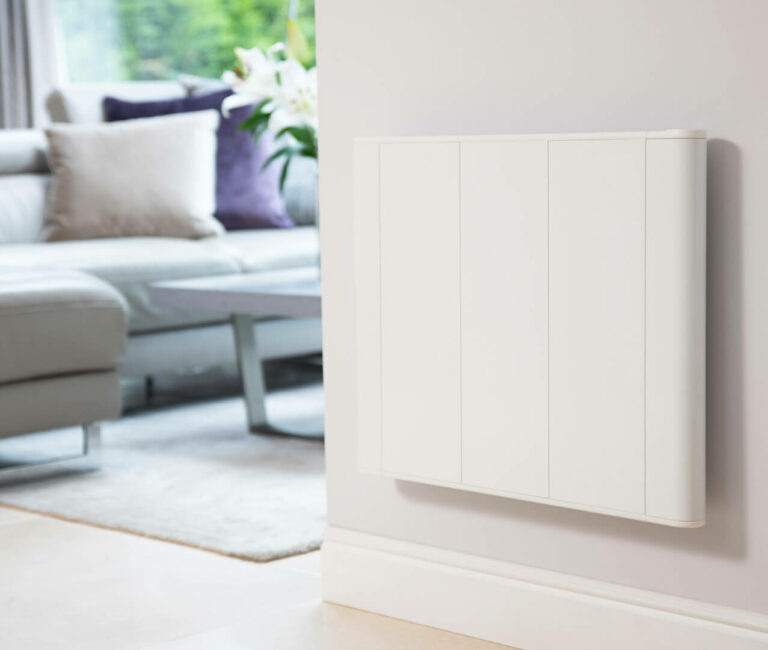 Keep cosy with living room electric radiators
Electric heaters are the perfect addition to the modern, busy household. Programmable to your exact temperature requirements, easy to install, and built with cost savings in mind, our electric radiators are designed to be a silent, subtle and stylish choice for home heating.
Suitable for any room,
office or conservatory
Free standing
or wall mounted
Lightweight aluminium
body on all models
Install in minutes with our
easy step by step guides
The slimmest electric
radiators in the UK
Relax in cool, controlled comfort
The beating heart of every home, the living room should be a cool and comfortable space to ease into at the end of every day – but that isn't always the case. Left vacant for most of the day, many of us struggle to properly warm our living spaces to our exact heating requirements, resulting in temperatures that are shiveringly low or uncomfortably hot and time wasted bringing them to the desired level.
Our modern living room radiators solve this problem and more, empowering you with the ability to control the temperature of your living space in line with your schedule. This means that they can be set to the perfect temperature for the exact moment you step through the door, ready to put your feet up. What's more, they can be quickly and easily controlled via WiFi, Amazon Alexa, or Google Assistant.
On top of this, our modern electric radiators are energy efficient, slim and stylish, and powerful. The result is a designer radiator that saves you unnecessary costs, can heat even larger open plan or high ceiling rooms, and blend seamlessly into your chosen aesthetic.
Our electric radiators are also completely silent, so you won't be distracted by unwanted noises as you relax on the sofa or work from home. So, for a designer living room radiator that is the perfect heating solution, look no further.
The best electric radiators for your living room
By replacing your old radiator with an electric, fully programmable alternative, you can enjoy perfect temperatures as and when you want them with no wasted heating throughout the day. No more time wasted heating your room when you get home. No more unnecessary energy bills. Just simple, straightforward central heating controlled by you.
Installation is a breeze, as every one of our electric living room radiators is quick and easy to install due to its compact, low-level design and simple DIY instructions. So, whether you want your unit free-standing or wall-mounted, we're confident you can have it set up in a matter of minutes, with no need for a lengthy or costly installation process.
Once that's done, you can benefit from precise heating control that doesn't waste a penny, thanks to our smart technology. Every heater detects changes in temperature and tops up as and when needed, so all you have to think about is settling into your sofa.
Key features:
24/7 Programmable
Even Heat Coverage
Individually Controlled via WiFi, Amazon Alexa or Google Assistant
Precision Control
Maximum Energy Efficiency
Wall Mounted or Freestanding
European LOT20 Compliant
The benefits of electric radiators in your living room
Traditional living room radiators can be a lot of work and often fail to give you the exact temperature you want when you want it. With our modern living room radiators, you can rest easy knowing you're making the most of the following benefits:
Convenience:
Freestanding or wall-mounted, our electric living room radiators are easy to install in a matter of minutes. They're simple to set up, so you don't have to worry about arranging fittings or pipework.
Silence: Traditional oil and gas heating systems are always in earshot and often make unwanted banging and crashing noises that interrupt your downtime. Running on electricity, our heaters are 100% silent – which means no unwanted interruptions.
Energy efficiency:
Using innovative technology and intuitive heat management technology, our designer radiators automatically detect fluctuations in temperature and adjust to the desired temperature. They are energy efficient and only 'top up' when needed.
Aesthetic, space-efficient designs:
Each unit is slim and subtle, meaning it will seamlessly slot into any living space. Our contemporary radiators are purposely designed for living room spaces, making garish, outdated radiators a thing of the past.
Frequently Asked Questions
How do I choose the best electric radiator for my living room?
Make sure to select the correct wattage size for your living space. We recommend 100w per m2 and would advise you to carefully consider the physical size of the radiator to ensure it will fit on your available wall space.
We also recommend a nice slim electric radiator to help maximise your space – and don't worry, a slim electric radiator doesn't mean you have to make sacrifices on efficiency.
Do I need more than one living room radiator?
It depends on the size of your space! Our electric living room radiators are available up to 2000 watts, which can easily heat a living room of 20 meters square. Knowing this, you can quickly assess how many units you need per meter squared in your chosen space.
Where should I put my electric radiator? 
Just make sure that your radiator is not directly behind sofas, tables, curtains, or any obstructions. If you're opting for multiple radiators, ensure they are evenly spaced out and not focused in one section of your living room. Our vertical radiators for living rooms are designed to slot in almost anywhere!
Are electric radiators expensive to run?
Not at all! In fact, modern energy-efficient electric radiators are fitted with multiple pieces of clever technology to help reduce wastage and minimise running costs, often making them a a cheaper alternative to traditional gas and oil radiators.
Running costs can even be as low as 2 pence per hour (based on a 600w electric radiator).
What size radiator do I need for my living room?
To find the perfect size radiator, you must simply ensure you have enough wattage/heat output for the size of your room, which you can quickly figure out using our wattage room calculator. Failing that, simply go by 100w per m2 for a rough guide. 
How are electric radiators sized?
For rooms with a standard ceiling height of 2.4m, double glazed windows and good insulation, we recommend 100w per m2. Using this rough guide, you can gauge the perfect size radiator for your room. Remember, there's no such thing as a radiator that's too big.
How much space will an electric radiator take in my living room?
The height and depth of an electric radiator are the same for each radiator size. However, the width/length varies depending on the wattage output. Browse our catalogue of electric radiators to decide which one will best fit into your available space. Remember, they can be wall-mounted or freestanding, so there are plenty of options when deciding where to put them